Focus on running your business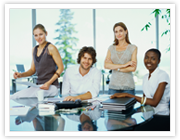 Whether you're launching a start-up, building momentum, or looking to take your business to the next level, your time is best spent on initiatives to expand into new markets, acquire new customers, and grow profits. The best way to achieve these business outcomes is through a more effective use of technology.
LammTech will design a simple, affordable, and reliable technology solution to meet your current business needs, while providing a platform for ongoing growth.
We will help you:
Save Time
Save Money
Boost efficiency
Gain a competitive advantage
Contact LammTech to get the right technology at the right time to address your business challenges and achieve greater success.