Simply the best technology for your business.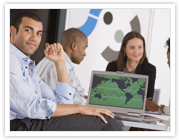 At LammTech, we provide Simply Better Technology. For us, this is more than just a tagline. Our purpose is to create success in your business through our exclusive approach to Technology Management.
LammTech's comprehensive Technology Management solution is built on the following fundamentals:
Accessibilty – Our support team is available around-the-clock
Reliability – Assurance that your technology is secure and working when you need it
Capability – Access to a talented team of certified engineers and experienced business experts
Dependability – Always acting in our clients' best interests
Scalability – Our solution grows as your business grows
Predictability – A fixed monthly fee that you can predict and count on
Accountability – Single point of contact for all technology related resources
Sustainability – We're here for the long haul, 2014 marks our 15th year in business
Extending beyond traditional IT managed services, our solution includes business elements that are essential to the successful management of technology. We become part of our clients' C-Level teams of leadership, providing insight and expertise in budgeting, forecasting, vendor management, strategy development, risk management, asset management, and cost oversight.
With our approach to Technology Management, LammTech is able to fulfill the promise of technology, helping your business
Increase efficiencies
Reduce unnecessary costs
Mitigate risks
Drive revenue
Improve customer satisfaction
Don't settle for traditional IT managed services. Experience real value with LammTech.