Connecting your business for greater efficiency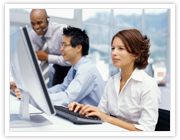 As the market becomes more and more globalized, keeping up with the competition requires progressive communication technology. Small and medium-sized businesses like yours need the same advanced and reliable communication solutions as large companies do, but without the high costs or frustrating complexity.

Business Phone Systems
ShoreTel's business communications system delivers voice, unified communications (UC), and contact center capabilities to enterprises of all sizes. It combines a distributed communications platform, intuitive user applications, IP phones, and an easy-to-use management system that integrates with leading business information systems.
ShoreTel provides organizations like yours with everything they need for business-class network and voice communications in one simple, affordable solution. An enterprise class system from ShoreTel is affordable and user-friendly, so staying connected and increasing your productivity has never been simpler. With features that include data and wireless support, as well as voicemail and automated attendant, you'll be able to completely replace your PBX system in one easy step.
Unified Messaging Services
Built to deliver the enterprise-grade security and reliability that businesses require, Microsoft Exchange from LammTech provides email, calendar and contacts on your PC, phone and Web browser. That means you can collaborate and work from anywhere, anytime, all from the browsers you're already familiar with: Internet Explorer, Firefox, Safari and Chrome.
No matter where your business takes you, Microsoft Exchange Messaging is available with mobile sync to your favorite devices, including Windows Phones, iPhones and Androids. Plus, multi-layered spam filtering ensures you're always protected from online threats like phishing, malware and viruses.
Looking for a reliable way to back up and store important emails and information? Not a problem – Microsoft Exchange offers low-cost, large mailboxes to keep all of your critical data in one safe place, with user access to mailboxes from anywhere and full support for Outlook. Not to mention the full range of security options, remote wipe and disaster recovery solutions to protect your business from costly data loss and security breaches. Want a messaging solution that's affordable, secure and worry-free? Microsoft Exchange Messaging is the answer.


Specializing in Mobility
As a world-renowned leader in technology, Apple creates IT products that deliver unmatched reliability, compatibility and simplicity to businesses like yours. LammTech is a proud member of the Apple Consultants Network, dedicated to expert consulting and support for the state-of-the-art products your organization can rely on for greater efficiency, productivity and profitability.
Scalable Unified Communications Solutions from LammTech give you the power to:
• Save money – reduce your communications expenses for a better bottom line
• Modernize your business – with business-class calling and messaging, as well as wireless integration
• Simplify collaboration – with tools for phone call processing, routing & switching, conferencing, voicemail and automated attendant
• Enjoy peace of mind – knowing your system is built to last and can easily grow and change as your business does
• Go green – cut travel costs and paper waste by sharing information online