used with permission from MSFT for Work
A recent survey revealed more creative professionals work outside the office today than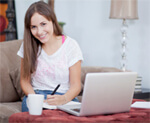 three years ago. The demand for mobile work environments is widespread among today's workforce—not just creatives. Some companies are embracing this trend, as it gives them access to a wider base of professionals without traditional geographical barriers.
As collaborative work tools continue to roll into the market and arrive in our workplaces, these requests and expectations will only continue to grow. Is your business ready to embrace this shift?
The Creative Group, a Silicon Valley–based staffing company, led the study, conducting 400 phone interviews with advertising and marketing executives. Of those surveyed, 33 percent claimed the percentage of their creative staff working remotely has climbed higher than three years ago, 59 percent reported no change, and 4 percent said they had seen a decrease.
The real meat of the survey, though, was in the executives' responses about why they're on board with telecommuting. Interestingly enough, the most widely reported reason was the access they now have to professionals without geography posing a barrier. Unsurprisingly, they reported better team morale across the board once workers started experiencing better work/life balance, and higher productivity rates once commuting became a non-issue.
Answer these four key questions to see if your business is ready for remote work policies.
The report highlighted several key questions business owners should ask themselves before offering telecommuting options to employees, including:
What does communication look like within your organization currently?

 Remember, mobile workers require a company that communicates openly and whose leaders are prepared to NOT micromanage.

What jobs at your company could be done remotely? 

Evaluate the roles within your company that require in-person interactions and those that can be completed just as effectively over the phone, email, or IM.

What's the right balance between remote workdays and in-office days?

 Even mobile workers need to join in the watercooler conversation, so keep in mind that you'll want them to come in and join the rest of the team at some point. It could be once a year, once a quarter, or once a month—the cadence will depend on each individual company.

What kind of collaboration tools do you have in place or need to invest in to make remote work a reality for your staff? 

Internal social networks (e.g., Yammer), videoconferencing (e.g., Skype), and instant messaging (e.g., Lync) are absolutely crucial to enable employees to communicating remotely.
Preparing for the mobile workplace
With mobile device use increasing four times since 2009, it's hardly a stretch of the imagination to predict the remote worker population will continue to grow. Employees have long recognized the value in telecommuting. Business owners, however, are also starting to see and appreciate its impact with happier workers, increased productivity, and access to a more varied talent pool than ever before.